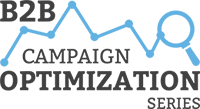 The New Models For Targeting & Engaging Buying Groups At all Stages Of The Journey
WEBCAST SERIES
NOW ON-DEMAND
As more B2B marketers focus on personalization and segmentation to targeted audiences to generate quality leads, this series will be critical to help revenue marketers analyze results from Q1 and improving plans for the remainder of the year. The B2B Campaign Optimization Series will address each of the foundational elements of successful campaigns.
SESSIONS
In this Webcast, SiriusDecisions service director Craig Moore will share the five elements of an integrated campaign and how best-in-class companies approach the planning.
Modern webinars are more than just a single live event, they are a powerful tactic to execute iterative, ongoing demand generation campaigns.
From Nike to Nestle, sellers of everything from shoes to consumer-packaged goods have discovered the value of personalization.
What's the goal? It's amazing how often marketers are willing to begin planning a campaign without answering it.
This session will present use cases and prescriptive recommendations on how data cleansing and enrichment tools and tactics help companies evaluate and enrich leads.
Not in this new account-based marketing (ABM) world. You'll need to map MQL and campaign performance metrics to the new SiriusDecisions' Demand Unit Waterfall.
At its core, Account-Based Marketing (ABM) is the start of a conversation-one that extends across your entire marketing team-and ends with Sales.
As a B2B marketer, the pressure is on to understand which marketing activities generate the most revenue, and events continue to be a big part of that.
Great data to fuel your prospecting efforts so that you can get in front of.
In this webinar, you'll learn the 6 steps used to build and launch an ABM program that meets the sweet spot of precision, ROI, and scale.
B2B buyers are moving faster than ever and have less time and consideration to give your campaigns.