 Tapping Into MarTech Insights To Engage Your Target Buyers
The 2019 Buyer Insights & Intelligence Series will provide a week full of industry practitioners, thought leaders and other experts sharing their experience leveraging the right insights on their target audience to fuel marketing campaigns and create relevant, contextual experiences with prospective customers. The series will specifically address the tools and technology used by today's top B2B companies to achieve their marketing and sales goals.
How To Personalize And Accelerate The Customer Journey Through Targeted 1:1 Experiences
Using Content Insight To Create A Friction-Free Buyer's Journey
How to Pair ABM and Intent Data to Drive Pipeline Growth
Developing A Buyer-Focused Sales Engagement Process That Works
Leveraging Survey-Based Insights To Identify Key Buyer Triggers In Your Contact Database
2019 Video In Business Benchmarks — What You Need To Know
Unlocking Buyer Insights With Content Analytics
3 Ways To Use Engagement Data To Close More Business
Fusing Data's Three Dimensions: Demographic, Behavioral And Declared
Using Conversational AI To Boost Your Sales And Marketing Processes
Marketing Leaders Reveal Secrets To Impactful Buyer-Focused Content
Improving The Customer Experience With Conversations
Live attendees will be entered to win one of these smart prizes:
Amazon Echo 2-pack
August Smart Lock
Amazon Echo Show 5
Phillips Hue Starter Pack
Free passes to 2019 B2B Sales & Marketing Exchange in Boston
Be sure to attend all #bii19 sessions live for your best chance to win!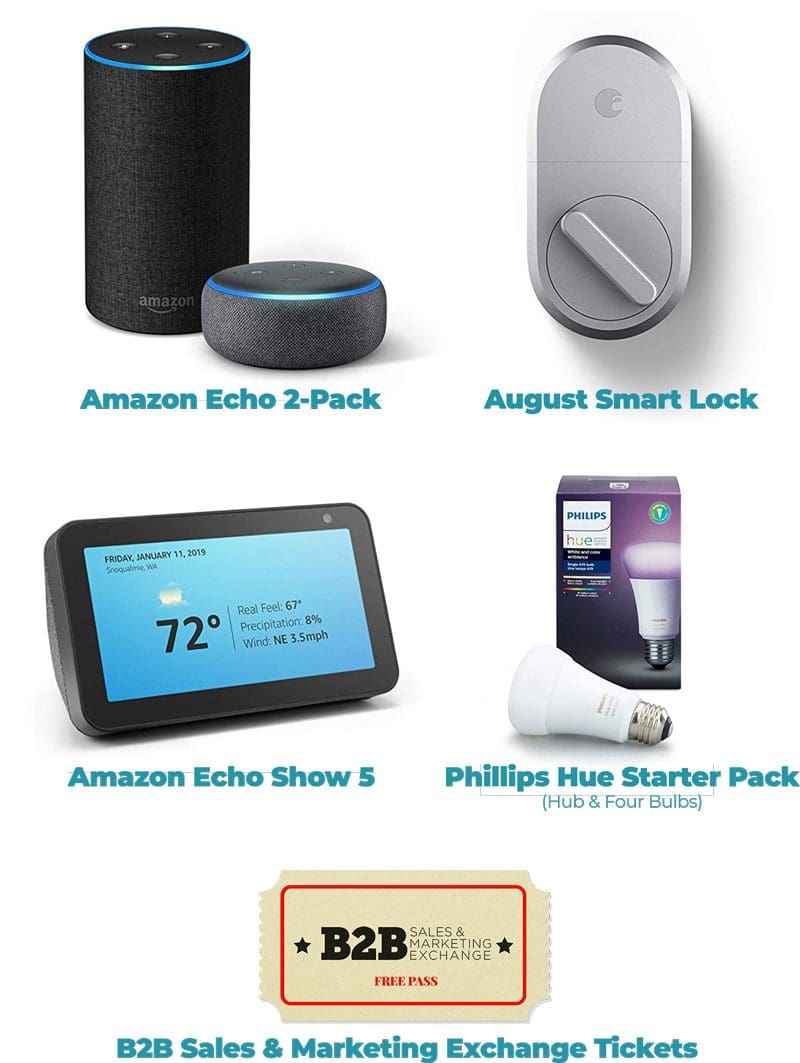 © 2019. All Rights Reserved.